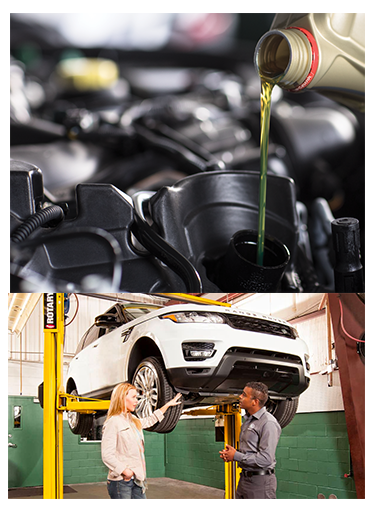 Ensure extraordinary performance and health on your new Land Rover SUV with a Land Rover Prepaid Scheduled Maintenance Plan, available at Land Rover North Atlanta. You'll be locking in today's costs for maintenance and services you'll be enjoying tomorrow and for years to come. With this scheduled maintenance plan, your new Land Rover will receive the meticulous care and attention it deserves.
With one of our Land Rover Prepaid Maintenance plans, you'll be able to focus on something more important: driving and enjoying your new Land Rover on the Alpharetta, Roswell, Cumming, Milton and Johns Creek, GA roads and highways. At Land Rover North Atlanta, our certified factory-trained technicians only use genuine Land Rover parts and Castrol Synthetic Oil to keep your vehicle performing at its peak. With nationwide servicing available at participating retailers, regularly scheduled maintenance is not only convenient, but it potentially increases the residual value of your vehicle.
What's more, the Land Rover Prepaid Maintenance plan saves you money - up to 25% versus the cost of paying for each service as it is needed. Our pre-paid maintenance plans can be purchased prior to the first service interval - or financed with the cost of your vehicle at the time of purchase.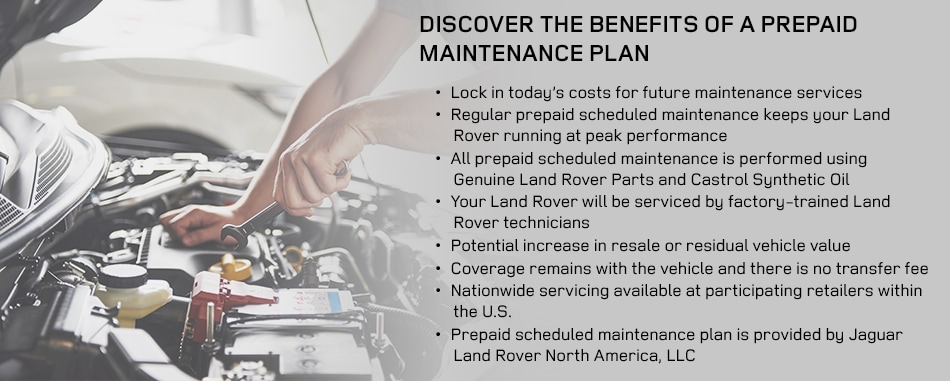 Land Rover Prepaid Maintenance Plan Services Include:

• Replace engine oil and filter**
• Replace pollen filter**
• Replace air cleaner element**
• Replace brake fluid**
• Replace spark plugs (if applicable)
• Replace fuel filter element (if applicable)
• Check/top up fluid levels (brake, coolant, windshield, DEF)
• Check battery condition, check/top up electrolyte level 
• Inspect brake pads for wear, calipers for leaks and rotor condition
• Inspect tire pressures, conditions & tread depth
• Inspect for fluid leaks




Land Rover Prepaid Maintenance Plus Plan

Includes the following wear items in addition to the services listed in the Prepaid Maintenance Service plan. Note that the number of replacements are limited based on the model and term of the plan purchased:

•  Front Pads (Set)
• Front Rotors (Set)
• Front Brake Wear Sensor
• Rear Pads (Set)
• Rear Rotors (set)
• Rear Brake Wear Sensor
• Front Wiper Blades
• Rear Wiper Blade


 Note: Plans are only available for purchase and servicing at participating authorized Land Rover and Jaguar Retailers within the United States.
** At specified maintenance interval.