Anyone facing the difficult choice of choosing a new family or sport utility vehicle has likely come across the 2018 Land Rover Range Rover Velar. You've also likely taken a look at the 2018 Audi Q5. With both vehicles offering many attractive features, you can spend time trying to decide which one may be right for you.
Delve into the details with this comparison between the 2018 Land Rover Range Rover Velar and the 2018 Audi Q5.
Luxury & Convenience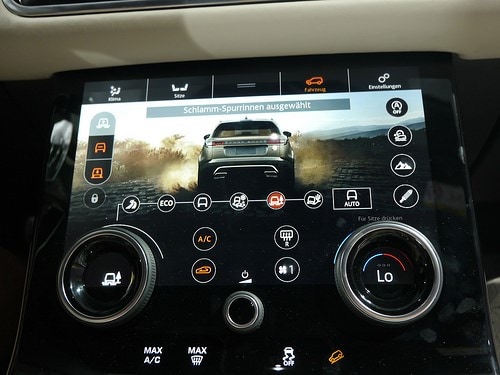 Onboard technology is a standard expectation for many vehicle buyers, and this offering can often be the category that makes or breaks a vehicle when someone is trying to make a buying decision. The Land Rover Range Rover Velar and Audi Q5 have both made improvements to the concept of onboard technology to attract your attention.
The Audi Q5's digital instrument panel display is capable of displaying information you may not be used to seeing in this part of the vehicle, such as navigation and media feedback. Some redundancy exists, though, considering that the Q5's heads-up display offers the same information and is more in view than the instrument panel.
The Land Rover Range Rover Velar makes a somewhat smarter improvement. First, the Velar includes two 10-inch touch-screen control panels in the center of the dash and console. These panels effectively double the amount of information and control over secondary systems, such as climate control, available to the driver and front passenger. The instrument panel offers some supplementary information as well, such as media playback indicators. What's smart is the way all these features work together to create one cohesive information system spanning the driver's full field of view without distracting from the road.
Fuel Economy
Fuel efficiency is a big deal in a world of continually fluctuating gas prices. Fuel economy can be another major deciding factor for people who want to buy a new vehicle, and the 2018 Land Rover Range Rover Velar comes in slightly ahead in this category with up to 26 mpg on city streets and 30 mpg on the highway. Compare these fuel economy values to the 2018 Audi Q5's 23 mpg on city streets and 27 mpg on highways.
Safety & Security
Parents with young children are particularly concerned with safety features these days. If that statement applies to you, you'll be pleased to know that both the Land Rover Range Rover Velar and the Audi Q5 perform equally well in this area. You'll find standard safety features, such as the LATCH system and side curtain airbags for rear passengers on both vehicles, as well as more advanced features such as lane-change assist systems, intelligent cruise control, and automatic emergency braking systems.
Both the Land Rover Range Rover Velar and the Audi Q5 offer attractive qualities for consumers. But when you consider the innovation behind the Land Rover Range Rover Velar, you may find this vehicle model especially desirable. Discover what awaits you behind the wheel of the Land Rover Range Rover Velar at Land Rover North Atlanta.
Make an Inquiry
Get Directions