The 2018 Land Rover Discovery and 2018 Mercedes-Benz GLS 450 are both luxury four-wheel drives, perfect for fun in the city and off-road adventures. But which one is the better buy? Compare the two vehicles side by side, and you'll have a better idea which one you'll want to own.
Performance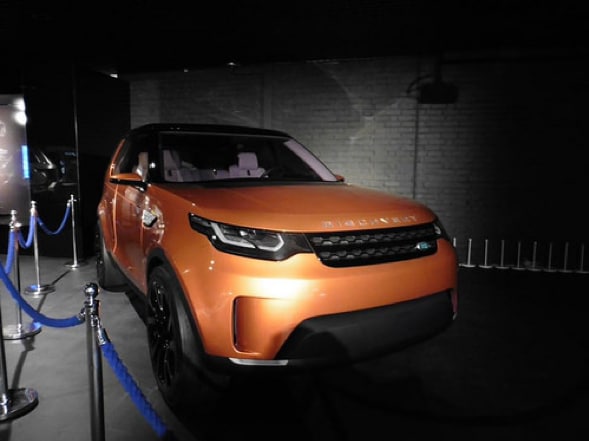 The new Land Rover Discovery and Mercedes-Benz GLS 450 both have a 3.0 turbo V-6 engine as standard. The Discovery is a diesel, though, while the GLS 450 uses regular gas. This sees the Land Rover producing 443 pound-feet of torque, 74 more than the Mercedes-Benz's 369 lb-ft. The Mercedes-Benz has more horsepower at 362 hp, 108 more than the turbo V-6 Land Rover's 254 hp and even more than its supercharged diesel V-6, which produces 340 hp.  
The Mercedes-Benz GLS 450 is quickest off the market, shifting from zero to 60 miles per hour in 5.7 seconds. It takes the Land Rover 8.1 seconds to get up to speed.
If you need to tow a really heavy load, choose the Discovery. While the Mercedes-Benz can comfortably handle up to 7,500 pounds, the Land Rover has a much greater towing capacity of 8,201 lbs.
Fuel Economy
The gas-powered Land Rover and Mercedes-Benz deliver comparable fuel economy on paper. According to the U.S. Environmental Protection Agency's statistics, the gas-powered Land Rover Discovery gets 16 miles per gallon (mpg) on city streets and 21 mpg on the highway, just marginally less than the Mercedes-Benz GLS 450, which delivers 17 mpg in the city and 22 mpg on the open road. Land Rover's diesel model is the most fuel-efficient of all these vehicles. It gets 21 mpg around town and 26 mpg out on the freeway.
The figures don't consider the Discovery's automatic engine start/stop system, though. This shuts the vehicle's engine down when it's stationary to conserve fuel and the environment. Mercedes-Benz doesn't offer start/stop on the base GLS 450, although it's an option on the AMG GLS 450.
Safety & Security
Land Rover and Mercedes-Benz have both included an impressive list of standard safety features, including a range of airbags, anti-lock and crash-mitigating brakes, all-wheel drive, electronic stability systems, traction controls, rearview cameras, blind spot and available lane departure warning systems, and more.
Look a little deeper, and you'll find Land Rover slightly edges out the Mercedes-Benz, though. While the Discovery and GLS 450 both have child safety locks, the Land Rover's are power locks, rather than manual locks, that the driver can activate and deactivate from the front seat. It's also easy to see at a glance whether the child locks are on, which provides peace of mind while you're on the move.
Land Rover also lets drivers add a cross-path warning system to boost the Discovery's safety credentials. This savvy system helps motorists avoid collisions by alerting them to vehicles approaching from the side. This feature isn't an option for Mercedes-Benz fans.
Both the new Land Rover and Mercedes-Benz 4WDs have earned rave reviews from critics and motorists alike, so you can't really make a bad decision. However, if you're torn, let a test-drive decide. Put these vehicles through these paces at Land Rover North Atlanta, and you'll soon see which one suits your tastes.  
Make an Inquiry
Get Directions